This site is all about how to get the most out of your practice time. Please explore the posts, and feel free to email me and let me know what topics you'd like to see addressed. And please help spread the word! Forward the link to all your friends.
Thanks for visiting!
Travis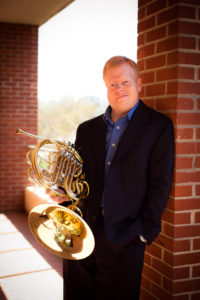 Dr. Travis Bennett joined the faculty of Western Carolina University in 2006, where he teaches lessons in the horn studio, conducts the Horn Choir, and coaches chamber music ensembles.
In addition to his teaching activities, Dr. Bennett maintains an active performing schedule, playing more than 50 concerts a year in orchestral, chamber, and recital settings. He has performed with orchestras throughout the southeast, including the Asheville (NC), Greenville (SC), Macon (GA), Columbus (GA), Tuscaloosa (AL), Huntsville (AL), and Tallahassee (FL) Symphony Orchestras. As a member of the Smoky Mountain Brass Quintet (www.smbq.org), he made his Carnegie Hall debut in June 2007, and has played concert tours in China, Germany, the Czech Republic and Jamaica. In February of 2010, he was a guest performer and teacher at Isla Verde Bronces, an international brass festival held in Córdoba, Argentina.
Dr. Bennett is an active member of the International Horn Society and his writing has been published in their journal, The Horn Call. He has performed and presented lectures at the Southeast Horn Workshop and the International Horn Symposium. In 2009, he hosted the Southeast Horn Workshop at WCU.
Dr. Bennett earned degrees from Florida State University (BM) and the University of Alabama (MM, DMA). When he's not making music, he enjoys spending time with his wife Julie and their two sons.